Jury Service
Juror Qualification Questionnaire
Did you receive this form?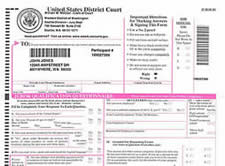 If you received a Juror Qualification Questionnaire from the U.S. District Court, you are being considered for jury service.  However, this is not a summons for jury service and you are not being called to report at this time. 
The form is used to obtain information about you so that we can objectively determine whether you are qualified to serve as a juror in the court.   You must complete and return by mail, or on-line using eJuror within 10 days of receipt.
Have a question about this form? The jury staff has provided a list of frequently asked questions available here.
Summons for Jury Service
Did you receive this form?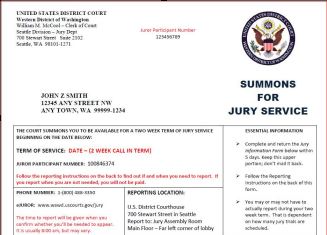 Welcome to federal jury service!
You must return the Juror Information Form located on the lower-half of your summons within 5 days. You may do this electronically using eJuror or send in the U.S.mail. 
Have a question about this form? The jury staff has provided a list of frequently asked questions available here.
 
Important Reporting Instructions
You can find out if you need to report for jury service by logging in to eJuror.  You'll need your 9 digit Juror Participant Number located on the front of your Summons for Jury Service.  Once you log in, click on the Current Status link on the left side of the web page.
You can also call the Jury Information Line at (800) 488-3350.  Select the first option on the menu and follow the voice prompts.
The Jury Assembly Room typically opens between 7:00 and 7:30 AM on jury selection days.
Arrest Warrant Scam Hits Washington State
If you've received a phone call from a person who states there is an outstanding warrant for your arrest relating to missed jury duty, please contact the United States Marshals Service at 206-370-8600.
These phone calls are fraudulent and typically instruct the caller to wire "settlement" money to avoid arrest. The caller will generally claim they are a federal law enforcement officer or an attorney for the U.S. government, but a valid warrant would be served in person by a U.S. Marshal or other law enforcement officer, not conducted over the phone. The caller may also mention a judge, an unspecified "United States District Court," a case number, and other, various charges.
These fake arrest warrants were reported across the country in early June, and have now been reported here in the Seattle area. Anyone demanding or obtaining money or anything of value while impersonating an officer or employee of the United States may be fined and/or imprisoned up to three years.