Courtesy copies are only required in habeas cases when the record exceeds 100 pages during the
COVID-19 emergency
.
The Honorable David W. Christel
United States Courthouse
1717 Pacific Avenue, Room 3100
Tacoma, WA 98402-3200
Chambers: (253) 882-3860
Courtroom Deputy: (253) 882-3811
Case Administrator: (253) 882-3811
Proposed Orders: christelorders@wawd.uscourts.gov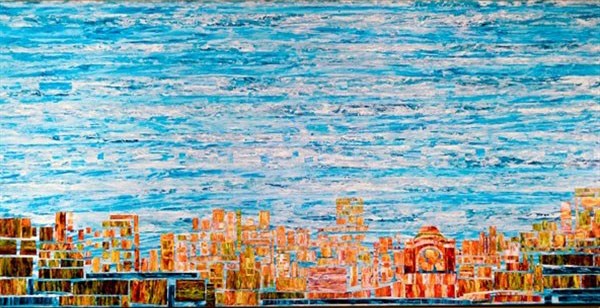 Every Day You See the Sky
(2015) is an acrylic painted paper collage mounted on three foot by six foot wood panel Judge Christel commissioned for placement in his Chambers. The artist, Jennifer Neal (American), provides the following description:
"Every Day You See the Sky is my artistic effort to acknowledge some of the deeper aspects of the everyday work carried out at the Federal Courthouse in Tacoma. I chose this medium and technique to reflect the complex layers and pieces of lives that come together and make the process of carrying out fair laws and justice challenging. I chose the sky as a dominant part of the art because seeing the sky is a privilege of freedom, and protecting freedom is a fundamental aspect of the work done at the courthouse. I intentionally cut imperfect shapes and left incomplete buildings as a way of recognizing that the law is still being formed and reformed, and that process is one of beautiful growth and renewal that spreads and affects all of creation and moves it towards greater freedom."